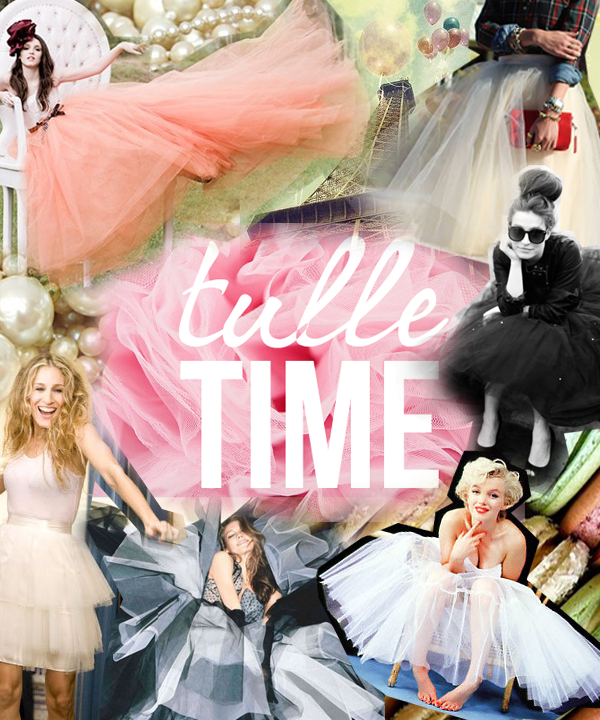 In the midst of starting work in the real world last week, I was stuck in the predicament that always occurs this time of year, "What am I going to be for Halloween?" My original costume idea would need to be purchased and frankly, I was in no situation to be
buying
a Halloween costume. So I racked my brain and scanned the internet for a DIY costume that I could make from my closet. I came across an article on
Chictopia
, about how to pull off the Carrie Bradshaw tutu look. How had the quintessential city girl not crossed my mind? I had a year old
tulle dress
from H&M that I'd been neglecting that I could wear, curl my hair and voila! But then I thought, "Why stop at just a Halloween costume? I can wear this dress in real, everyday life!" My 5 year old ballerina self would be so proud.
Tulle and tutu looks can be
really
hard to pull off when it's not Halloween, but here's how I wore mine! I paired a black
cardigan
over the dress to add some contrast so I didn't look like the pinkest princess in all the land. To balance out the girly feel, I decided on
animal print tights
and my heavily worn
boots
courtesy of Bakers for a little bit of edge. Of course no outfit is complete without a little bit of sparkle! I topped off the look with some
necklaces
from H&M and the local Delaware boutique, Clothes In The Past Lane.
For more inspiration on how to wear this trend be sure to check out my
Tulle Time collection on Lockerz!